posted by Robbin
November 22, 2022
Join Sisters Idina Menzel & Cara Mentzel
For a Book Reading and Q&A
---
---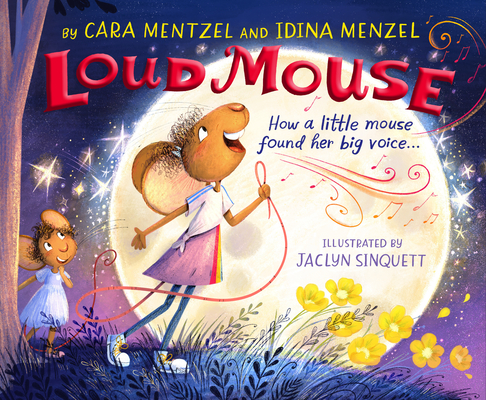 Frozen's Elsa and Tony Award-winner Idina Menzel, along with acclaimed writer and teacher Cara Mentzel, present a lyrical picture book about a little mouse finding her BIG voice, with the help of her sister.
Dee loves to sing. She sings during her morning yoga. She even sings while practicing her math facts. She usually sings to herself. But when her teacher asks everyone to share something with the class, Dee knows just what to bring: a song. And as Dee sings la, la, la, la, LOUDly in front of her class for the first time, something extraordinary happens…
Complete with gorgeous illustrations and filled with humor and heart, Loud Mouse is a clever tale about learning that sometimes your best self is big, brave, and yes, loud.
Cara Mentzel's debut memoir, Voice Lessons: A Sisters Story, about her relationship with her superstar sister, Idina Menzel (yes, they spell their last names differently), was a Good Reads Choice Award nominee in 2017. Cara lives in Boulder, Colorado, where she and her husband raised their Brady Bunch of boys against the beauty of the Rocky Mountains. She has a master's degree in elementary education with an emphasis on children's literacy, and though she currently spends most of her time writing, she enjoyed teaching elementary school for well over a decade and can occasionally be found back in the classroom talking about books she loves. This is her first picture book.
Idina Menzel is a powerhouse: actor, singer-songwriter, philanthropist, entrepreneur, and now writer. She was Tony®-nominated for her Broadway performances in Rent and If/Then, winning the prize for Wicked's green girl. People around the world know her as Elsa in Disney's Oscar®-winning Frozen and Frozen 2. She has performed at the Oscars and the Super Bowl, and is the cofounder of A Broader Way Foundation, whose mission is leadership development to amplify young women's voices through the arts. Loud Mouse is Idina's latest endeavor to build on the message of empowerment and finding our voices. Idina's greatest gift is her son, Walker.
$25.00 Ticket includes admission for one (1) attendee to the event and one (1) copy of Loud Mouse
$10.00 Companion Ticket for one (1) attendee. Purchase of regular ticket required, limit one companion ticket.
Looking for a signed copy? Please contact the bookstore on or after Saturday, December 3 for availability.
Event Date:
Friday, December 2, 2022 – 5:30pm EST
Event address:
First Congregational Church
26 Meeting House Ln
Leave a Reply
You must be logged in to post a comment.